SLIME PARTY AT OUR WAREHOUSE IN NORTHRIDGE:
$45 includes all slime materials + Lunch + Refreshments
​​​​​​​
Please note: if your child has dietary restrictions, please send a packed lunch.
Space is limited, reservation required!
Be a part of the Slime Box Club for a full day of slime-making and decorating fun!
For at-home slime parties please inquire.  Basic Package: $350 FOR A PARTY OF 10-25 children (ADDITIONAL $30 PER CHILD depending on GIFT BAGS)
* Visit our Slime Factory where we make our very own slime and take care of all the mess.

* Learn the basics and how to make our most popular and trending slime recipes from our team of Slime Experts
* Led by our team of Slime Experts, our workshop includes 3 hours of sharing slime tips and tricks for a variety of slime bases.

* Customize your own slime creation by adding color, scent, and texture!!
*GIRLS & BOYS ages 7-12*
*LEARN HOW TO BECOME A MASTER SLIMER*
*WE WILL OFFER WORKSHOPS WITH SOME OF OUR SLIME INFLUENCER FRIENDS*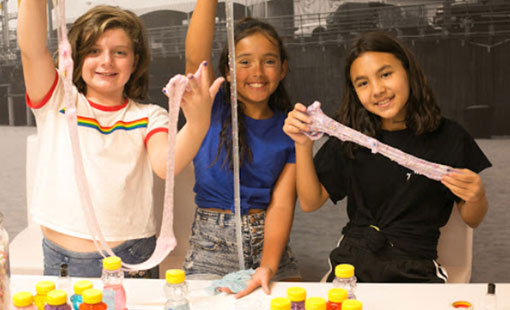 DIY SLIME WORKSHOP
With a rainbow of color to choose from and textured mix-ins like foam beads, jelly cubes, java chips, and fimo slices, your variety is limited only to imagination. Each participant takes home jars of slime for at-home play!
EXCITEMENT
We bring in our Slime Influencer friends to lead workshops making the very Slime that made them famous!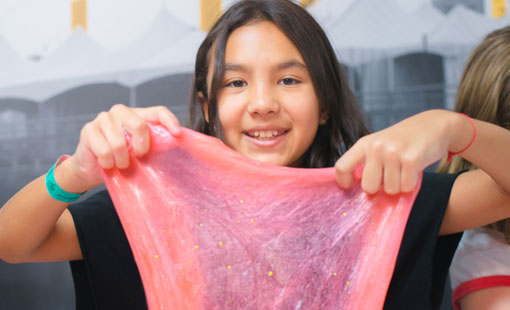 JUST FUN
We supply all the ingredients and Slime making tools to make every variety of slime. Borax-free! 
Learn how to make over 100 slime recipes and enjoy a week full of games, arts and crafts, contests, and surprises!
EVENTS
We are so excited to bring local Slime events to Studio City. Coming Summer 2019.
WORKSHOP
Includes materials to make:
Cloud Slime
Butter slime
Thickie slimes
Fluffy slime
Jelly slime
EMERGENCY
Feel free to contact us with any questions.
Kid-safe ingredients: non-toxic, no borax, and all made in the USA.
We do not use Borax in our Slime recipes.
Throw your very own slime party. Please email us for details.
Your kids invent their own specially scented slimes.
LET THE KIDS INVENT THEIR OWN SLIME
We are constantly adding new ideas and extra features to provide the best services at the best prices.

We also keep the focus on giving you the best customer service.
"Best slime in town! Super great costumer service! The perfect camp for my child. Also, a great stress reliever! Thanks camp slime!."
"We tried this as a gift for our 9 year old daughter and she loves it. The camp is filled with awesome stuff and amazing slime.  Very happy!."
"Great camp. Purchased for my grand kids. It was a hit for me. Good experience with customer service. No complaints. Love Camp Slime!"